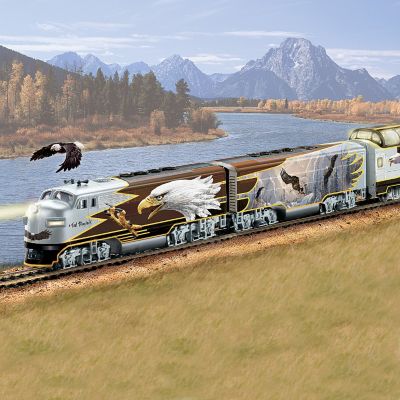 Wings Of Majesty Express Bald Eagle Art Train Collection by The Bradford Exchange Online
Discover a world with no limits aboard this collectible bald eagle art HO scale train collection, the first-ever to feature the dramatic wildlife art of artist Ted Blaylock! Your trip into the wilderness begins with Issue One, Silent Sentinel Diesel Locomotive. Soon more adventure awaits you with Issue Two, Soaring Majesty Engine, which includes a FREE HO gauge track, power pack and speed controller. Then the HO scale train collection continues with Issue Three, Ocean???s Majesty Flat Car with removable eagle sculpture. Additional coordinating eagle art train cars, each a separate issue, will follow.‡ Available exclusively from The Bradford Exchange, Hawthorne Village Division, this sleek train collection is adorned with Ted Blaylock's powerful full-color portraits of eagles in flight. Masterfully crafted, it is loaded with authentic details and made all the more dramatic by the lights that glow from within each passenger car and the headlight that beams from the locomotive. A fine addition to your collectible train collection – or an unusual bald eagle gift for a nature lover. So do not wait. Order now!
Price: $
79.99
Condition:
new
Thank you for shopping with the Lovely Exchange, the best place to find unique gift ideas.